Following Buddhist custom, my grandma, Ba Noi, ate a vegetarian diet twice a month. On those days, she would cook a healthy, flavorful meal called Do Chay. If we happened to be over, Ba Noi would share some with us kids. We loved her Do Chay because it was bursting with flavors and textures—the sweetness of the mushrooms, the crunch of the water chestnut, the QQ of the tofu. Eventually, Mom started making it for us too. She cooks it in a big pot so all the vegetables can fit. The prep work is the key to Do Chay—a lot of soaking and chopping before everything goes into the pot. Then you add the vegetables one by one, and stir and repeat, until it's all mixed thoroughly and the veggies are tender. The soy sauce soaks into the vegetables, which results in not only a delicious flavor but also an earthy, light brown color. Growing up, we ate Do Chay with jasmine rice, but it's just as good with a bowl of quinoa too. And you can customize your Do Chay with any vegetables you like! It tastes great hot or cold (Thu's preference) and it also freezes well. Just writing about Do Chay makes me hungry. Time to grab some out of the freezer!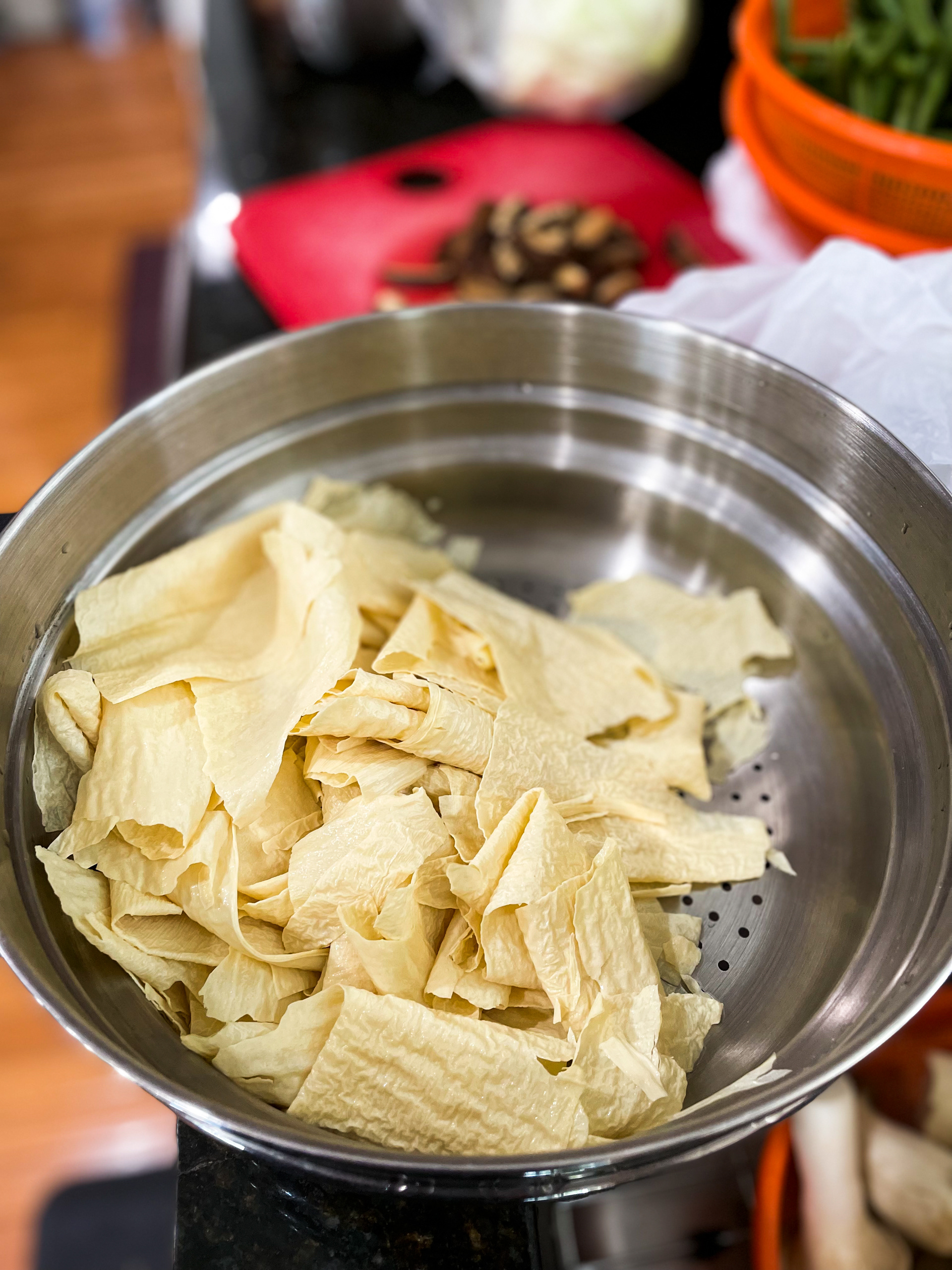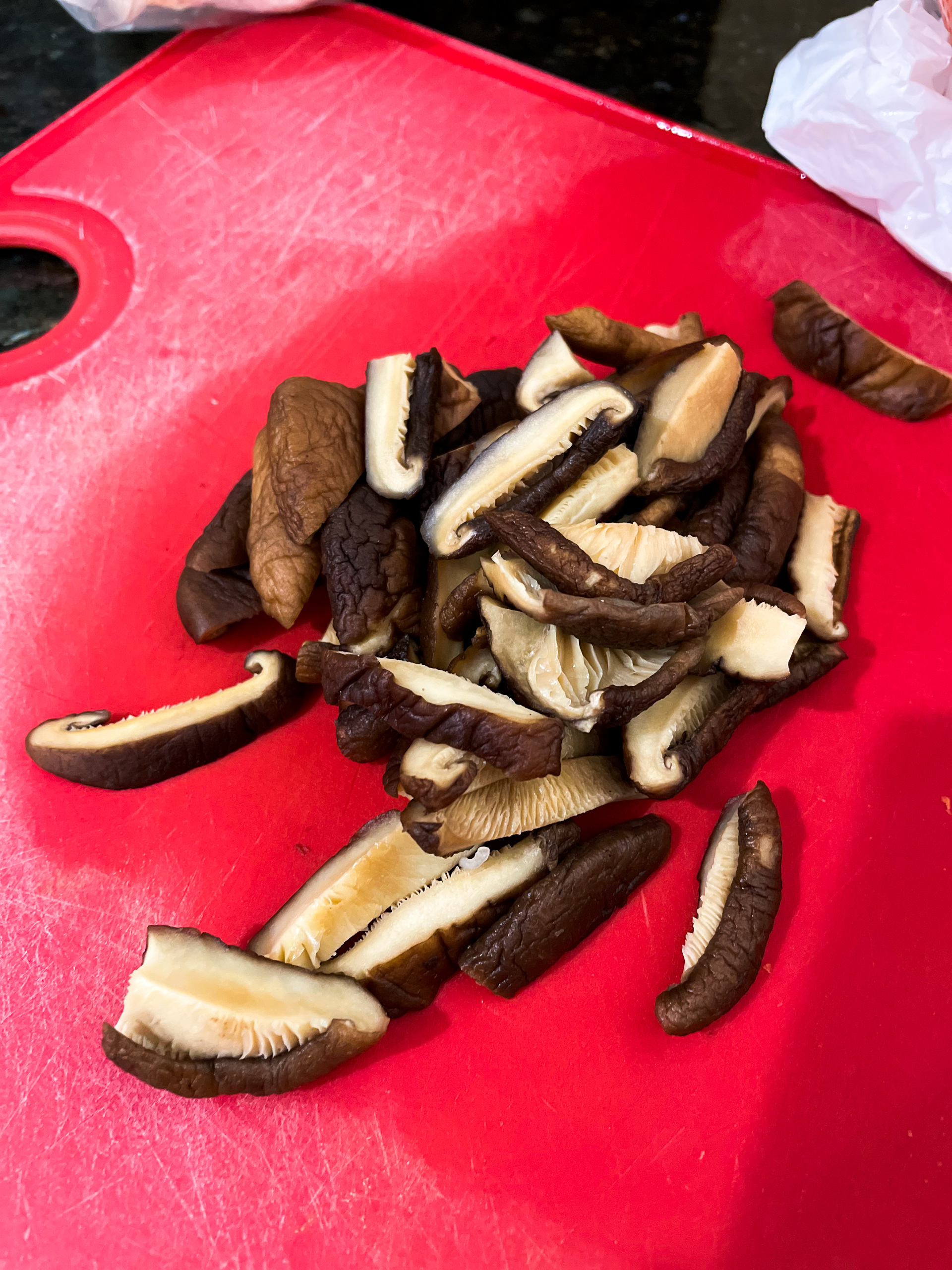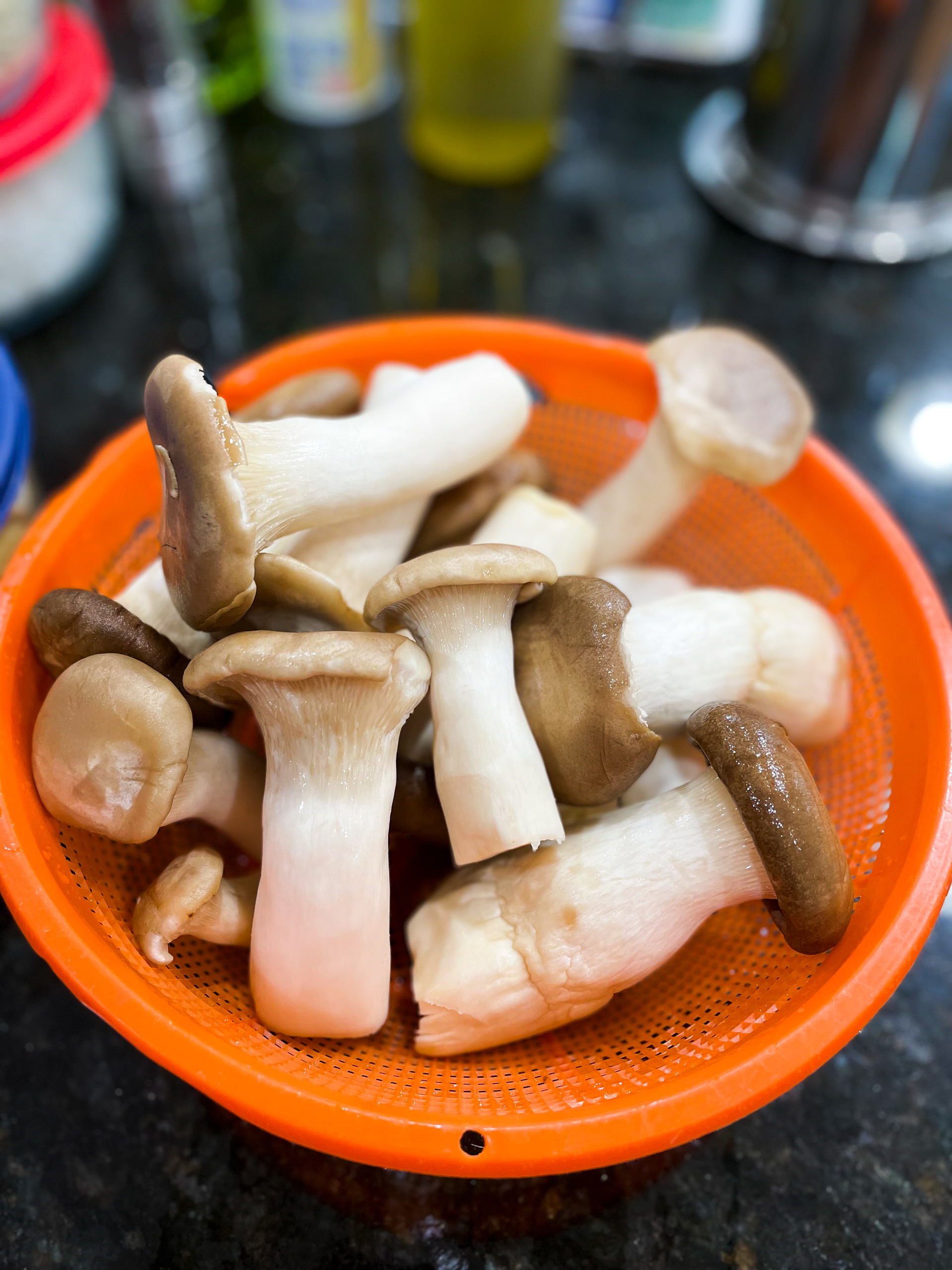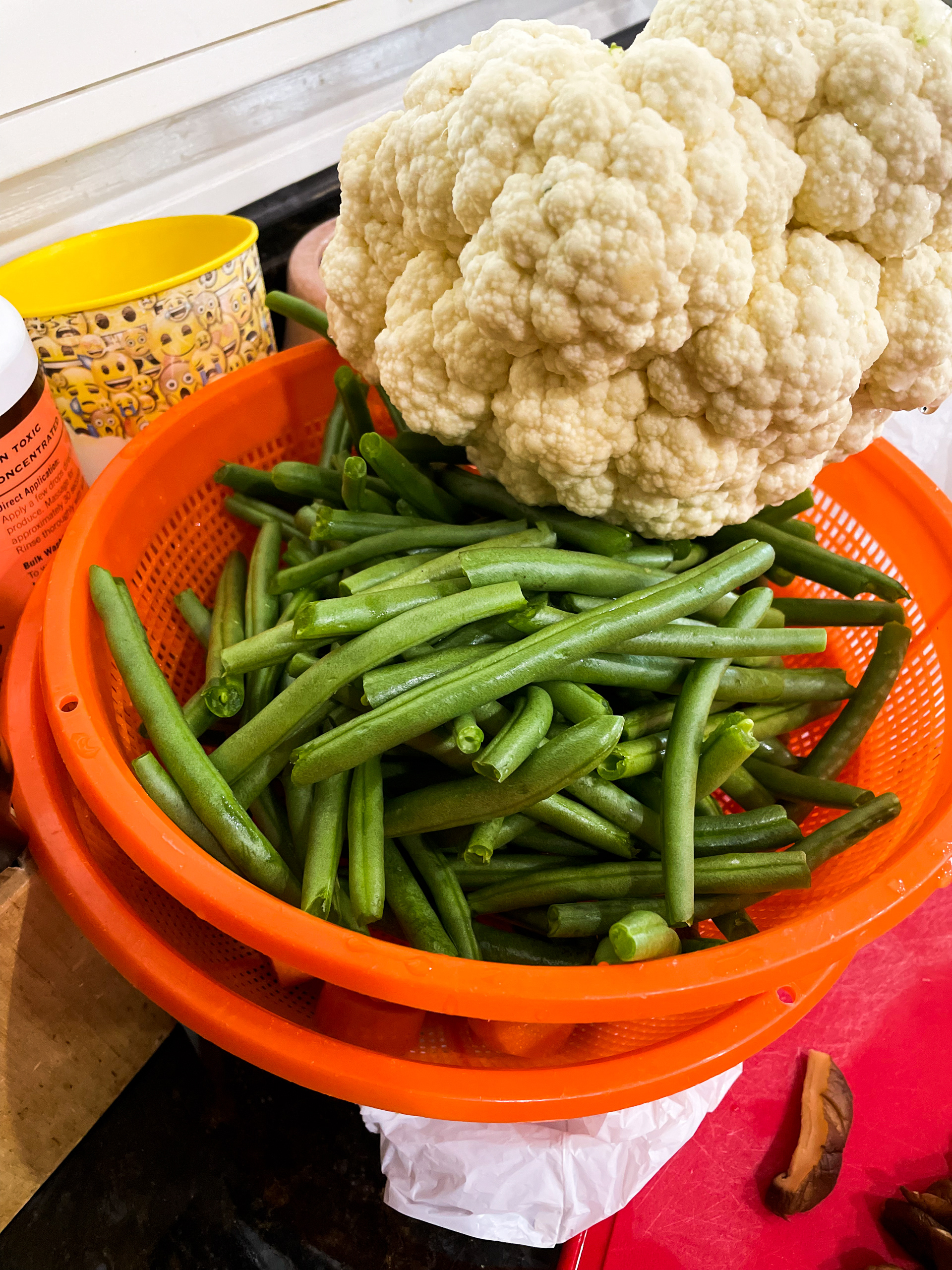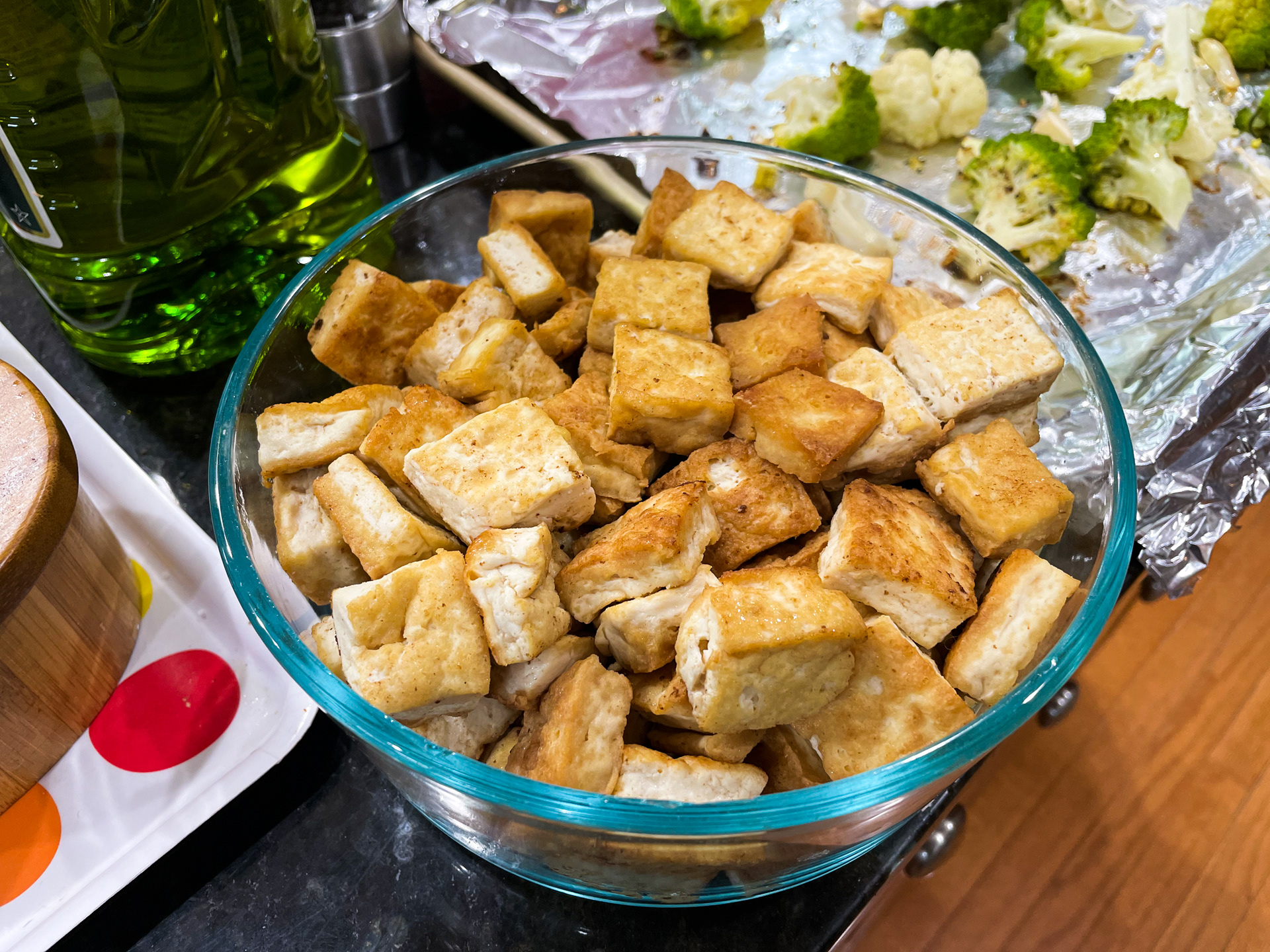 20 servings. Prep time: 3 hours. Cooking time: 30 minutes.
INGREDIENTS:
4 stalks lemongrass
Olive oil
3 tsp salt
¼ cup soy sauce
1 tbsp dark soy sauce
1 pack dried bean curd (flat)
3 packs of firm tofu
10 dried shiitake mushrooms
3 lbs king oyster mushroom
1 lb carrot
2 lbs green beans
1 head of cabbage
1 head of cauliflower
1 lb baby corn
1 can water chestnut
PREP
The day before: cut tofu into ½ inch thick squares and pan fry in vegetable oil 
until tofu is golden brown on all sides. Remove from pan and cool on paper towels. Refrigerate until time to add to other cooked veggies.
Wash and dry all vegetables.
In bowl of water, soak shittake mushrooms for 3 hours.
In another bowl of water, soak dried bean curd for 1 hour.
Trim, halve, cut lengthwise, and diagonally slice king oyster mushrooms into ½ inch pieces.
Trim, peel, and cut carrots into ½ inch slices.
Trim green beans.
Chop cabbage into 2 inch cubes.
Trim and cut up cauliflower.
Slice water chestnuts.
Remove shittake mushrooms from water. Slice into ¼ inch pieces.
Remove dried bean curd from water. Separate into thin sheets.
Trim, peel, thinly slice, and mince lemongrass in food processor.
COOK
In a large pot, heat a generous drizzle of olive oil over medium high. Add lemongrass. Cook for 1-2 minutes.
Add shiitake and dried bean curd. Mix. 
Add King oyster mushroom.
Season with salt and ½ of soy sauce. Mix. Cook for 5 minutes. Do not cover.
Add carrots and green beans and water chestnuts.
Taste and add rest of soy sauce.
Add dark soy sauce.
Add cabbage and baby corn.
Add more salt.
Add tofu. Mix. Cook for 10 more minutes.
Add cauliflower. 
Add more soy sauce and dark soy sauce to taste and for color.
When green beans soften from vibrant green to a mellower green,
then your Do Chay is ready!
Enjoy with rice or quinoa. Can be eaten hot or cold.