Mom says that when she was growing up in Vietnam, a bowl of pho bo was a special treat. The savory, beef noodle soup was only a meal the rich could afford on a daily basis. When she was a girl and craved the soup, Mom would pretend she was sick and ask Grandma to buy her pho. When Mom and Dad were young parents in Vietnam, they didn't have much money, but they would still manage to get us kids pho once a week—believing the bone broth would keep us strong and healthy.
In our early years in America, we'd have pho every Sunday—when there was time for Mom to slow-cook the broth. Asian grocery stores were scarce, so she had to find alternatives for some ingredients like the noodles, spices, and herbs. Eventually, Mom was able to grow all the herbs for pho in her own garden, and by the late 90's you could even get fresh vermicelli noodles in the Asian markets. Now pre-made pho seasoning bags are readily available, making it easier than ever.
If you're looking for a quick recipe for pho, this is
not
the one. Making pho involves a lot of ingredients and steps, and it would take even longer to make if mom wasn't a multitasking master. While the broth boils, she roasts the aromatics, picks herbs from the garden, cleans the chicken, and on and on. 
Hours later, once the soup is finally done, then there's the fun of customizing it to your taste. The meats in pho come in many varieties: from rare thinly sliced steak, brisket, meatballs, to the more acquired texture of tripe. You top it all off with a plethora of herbs including Thai basil, culantro, and bean sprouts. Lastly, choose how much lime, hot chili, and hoisin sauce you want to add to your bowl.
If mom starts cooking pho in the afternoon, then we tend to have it the traditional way: for breakfast the next morning. But Dad used to say he could eat Mom's pho anytime. There is no other soup that packs so much flavor. And once you make a pot, you've got a meal that can feed an entire family. Or, just freeze the broth and save it all for yourself!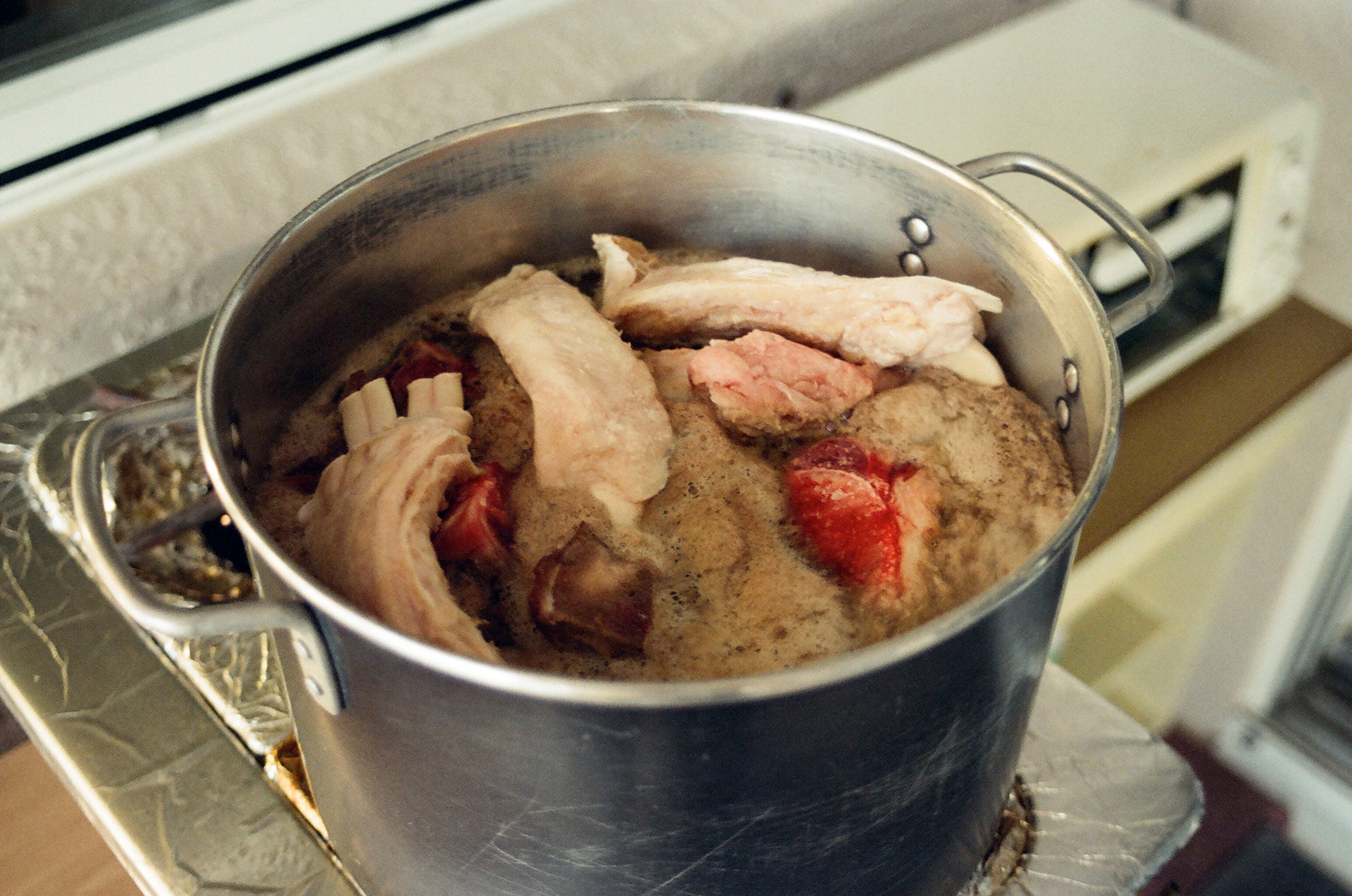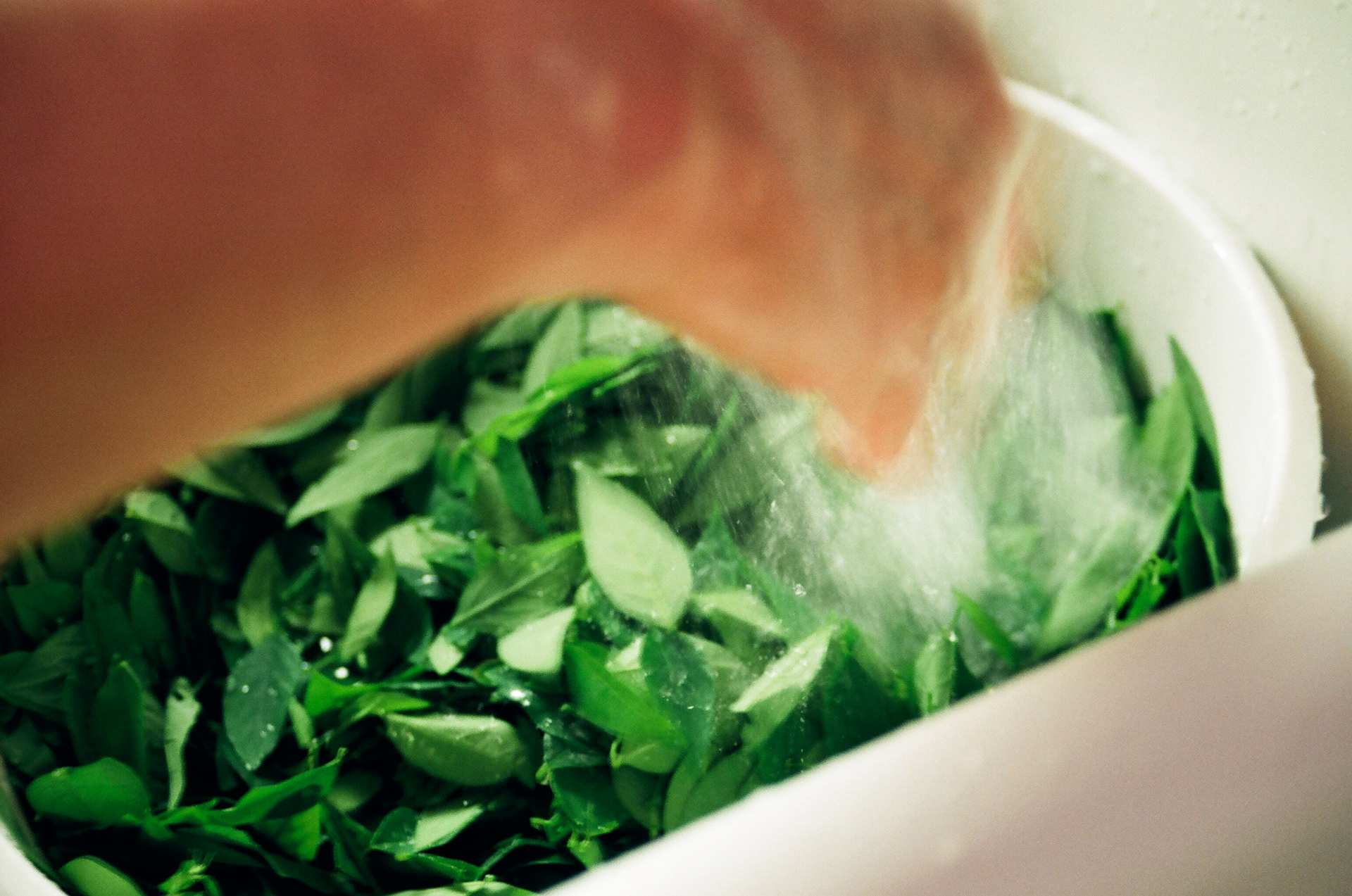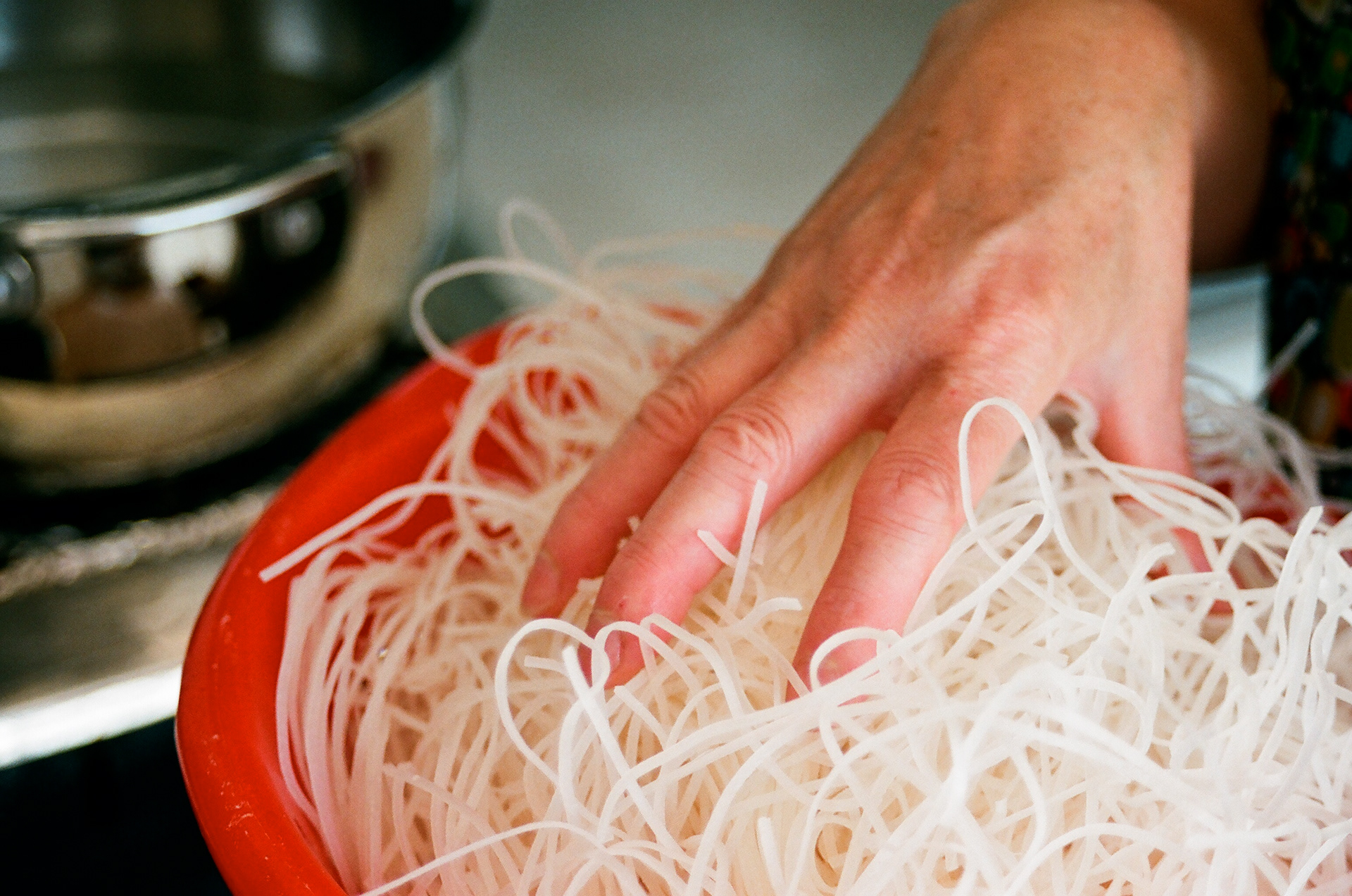 Beef soup bones (beef neck bone is leaner)
2 yellow onions (for pot)
Beef eye roast (2 pounds)
Vietnamese pork meatballs
1 bag pho seasoning (anise, cardamom, cloves, coriander, cinnamon, fennel, pepper balls)
Scallions (4 stalks, diced)
Fresh banh pho (rice vermicelli)
Boil soup bones and tendons for 30 minutes.  Discard water.
Roast ginger and yellow onions.  Smash with butcher knife, but keep whole.
Refill pot with water. Add Salt (2 tbsp) and rock sugar (10).  Return water to a boil.
Add meat and ginger to pot and 2 yellow onions.
Reduce heat to medium-low.
De-skin and halve chicken.
Rub chicken with salt and rinse with water.
After 2 hours, add chicken to the pot.
Once the pot is boiling, reduce heat to low and let simmer for 1 hour.
Blanch noodles. Rinse in cold water. Allow to dry.
Prepare bowls with noodles, sliced round eye steak, sliced sweet onion, chopped scallion.
Pour hot broth into prepared bowls.
Add hoisin, squeeze lime, chili oil to taste.
Add Thai basil, bean sprouts.
For dipping meat, mix a sauce of hoisin and a bit of chili oil.